Orhideja Donji Kamenjak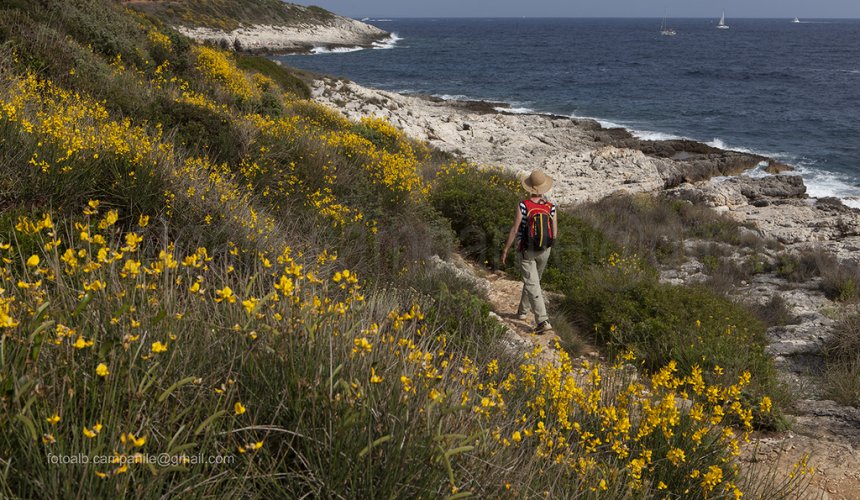 This route starts at the car park immediately before the entrance to Premantura. Head southwest along the asphalt and continue on the gravel road. You will enter the protected Kamenjak area. The route leads past a dinosaur park with impressive life-size dinosaur sculptures, while on the coast you can see their real footprints left in the stone for eternity. On your way, you will come across a small harbour with old local fishermen's boats gently swaying in rhythm to the tide. The coast that stretches beneath the path is distinguished by its variety of pebbles, flat parts and spiky rocks shaped by the sea from day to day. Further on, you will see the contours of two small islands in front of you. One of them is Porer, a rocky cliff with a lighthouse, and the other is Fenoliga, one of the sites with the most dinosaur footprints in Europe. In the southernmost part of Kamenjak, you will find the Safari Bar, which was built from materials that were found in Kamenjak. The coast in the southern part of Kamenjak abounds in underwater caves and canyons famous for attractive sites from which people can jump into the sea. On the way north, you will have the chance to admire the wonderful flora of Kamenjak, which consists of more than 500 plant species. The orchids are particularly interesting, some of which are strictly protected by law. Continue your walk along the eastern coast of Kamenjak and enjoy the views of the Medulin archipelago with its numerous small islands and coves. From the coast, turn onto the gravel path and then onto the asphalt road in the direction of Premantura and continue past the houses and old church with its large bell-tower that can be seen from anywhere along the route. From Premantura, head north to the car park, which was your starting point for this walk.
The route is 13.5 km long and easy to walk along. The tour takes about two and a half hours. During the walk, you will come across beautiful coves and beaches with attractive canyons surrounded by the small islands of the Medulin archipelago. Cape Kamenjak is famous for its orchids and dinosaur park.
Location

Premantura

Distance

13.5 km

Starting point

car park at the entrance to Premantura

End point

car park at the entrance to Premantura

Difficultly

easy

Elevation

223 m

Highest point

58 m

Lowest point

2 m

Surface

gravel

Duration

2.5 hours

Asphalt

2 km

Gravel

11.5 km
| # | Km | Elevation | Mark | Location | Direction |
| --- | --- | --- | --- | --- | --- |
| 0. | 0 | 48 m | | Premantura car park | Start from the car park and head south along the asphalt road. |
| 1. | 1.25 | 55 m | | Cape Kamenjak - Grakalovac | Turn right from the main gravel road onto the narrower path. |
| 2. | 2.18 | 23 m | | Cape Kamenjak - Penižole | Turn right towards the coast and continue along the coast through the pine forest. |
| 3. | 3 | 10 m | | Cape Kamenjak –Polje Cove | Turn right onto the narrow path and continue along the coast. |
| 4. | 5.6 | 13 m | | Cape Kamenjak | Continue along the coast on a dirt road up to the vantage point. |
| 5. | 6.6 | 14 m | | Cape Kamenjak | From the vantage point, go down to Istria's southernmost point. |
| 6. | 11 | 7 m | | Cape Kamenjak | Head north on the gravel road along the eastern coast. |
| 7. | 11.7 | 11 m | | Cape Kamenjak | Turn right from the coastal path through a pine forest to the main gravel road. |
| 8. | 12.2 | 27 m | | Cape Kamenjak | After a short climb, turn right towards the exit from Kamenjak. |
| 9. | 12.4 | 36 m | | Premantura | After reaching the asphalt road, continue north through Premantura to the car park, which was the starting point of this route. |