Izleti brodom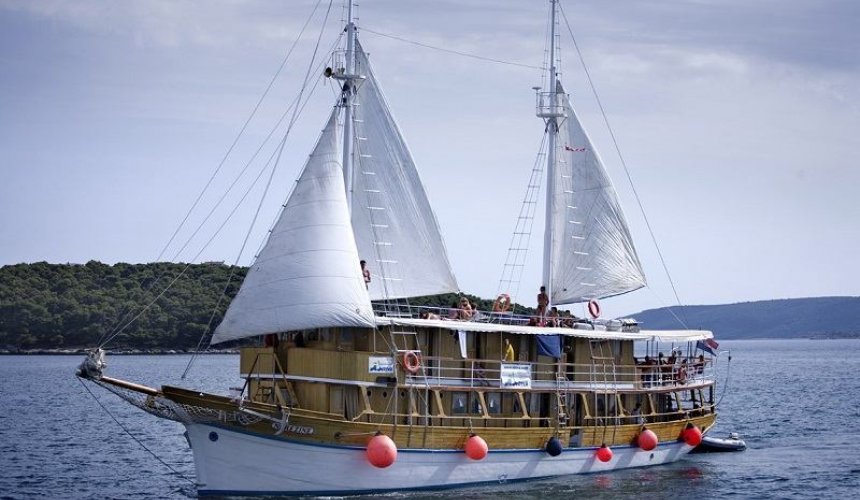 To complete the leisure during your stay in Medulin we offer you a half-day boat trip.
The boat trip starts in Medulin (from the Harbour). The trip begins with panoramic view of Medulin's archipelago. After one-hour ride the boat arrives to the southernmost point of Istria - park of Nature Kamenjak, where cliffs and underwater caves can be found. You can go swimming into the caves, followed by a member of the crew. The ride continues to Porer, the former austro-hungarian Lighthouse, built in 1846. The trip is ending with the two hour hold on (sunbathing, swimming) on one of the islands of the Medulin archipelago.
Some trips offeres lunch on bord.
INFORMATIONS:
Trade MEDULIN – waterfront Medulin – tel. 099 754 98 56.
AQUATIK SPORT MEDULIN - Hotel Holiday beach, tel. 098 791 384.
MB SANDRA Medulin – waterfront Medulin - tel. 092107 5707, 098 898 101, info@medulin-excursions.com, www.medulin-excursions.com
WITEZ WRECK DIVING -Premantura, Premantura 2a, Info: tel. 575 358, 098 421 004, info@vitezwrecks.com. Depar ture from the tower in Medulin and camp Runke in Premantura. Departure time by arrangement.
AGENCY FLACHTOURS – waterfront Medulin - Tickets should be booked at the agency one day before departure, Osipovica bb, tel/fax. 576 830, 098 506 600, 098 255 628. josip.flah@pu.t-com.hr
THIELLA d.o.o. -near the Aparthotel Del Mar u Banjolama, tel. 091 581 08 14, andrea@emyyachting.it
ILLUSTRIS TRAVEL DMC -Kamik 24, Banjole, tour of Cape Kamenjak-Levan island; tel. 653 382, 091 452 79 81, info@illustris-travel.com