Mobilne kućice Arena Medulin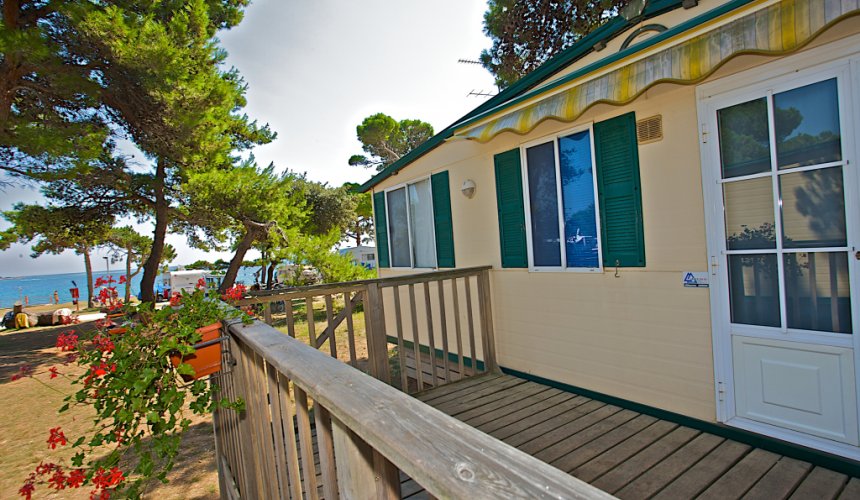 Address:

Osipovica 30

Postal code:

HR-52203

Email: info@arenacampsites.com
Telefon:

++385 52 572 801

Mjesto:

Medulin

Broj faxa:

++385 52 576 042

Telefon, booking:

++385 52 529 400

Fax za booking:

++385 52 529 401
Located on two peninsulas covered with lush Mediterranean vegetation and connected by a narrow passage, in a deep bay providing an embrace of safety, the mobile homes Arena Medulin will take away all the hectic routine of your everyday life. A soft green landscape closes a picturesque cove with pebble and sand beaches, and the air, filled with drops of the sea, is suitable for people with respiratory problems. The mobile homes offers an amazing view of the islands and peninsulas of the archipelago and the beautiful Medulin bay with fishing boats. The guests have a tourist port for small boats at their disposal. A large Family Park is also a part of the camp, with entertaining contents for the entire family.
Mobile homes: 121 mobile homes (for max 5 persons) of 24 m2, with air conditioning, a terrace and a parking place
Facilities: restaurants, bars on the coast, market, exchange office, souvenir shop, news stand… surfing school, small boat rental, rental of bicycles and pedal boats, other water sports, acquagan… in the immediate vicinity tennis, volleyball, mini-golf...
Entertainment and animation: daily and evening animation for children, discoteque
Others: rich excursion program, near to the city bus station, free WIFI in reception area